Existing MyPBA users, click the LOGIN.GOV button below to login.
Non-US Issued ID:
Start the LOGIN.GOV registration as usual. Once you arrive at the "Add your state issued ID" page, please click on the "Get help at PBGC MyPBA". See the below image for reference. After clicking on the "Get help at PBGC MyPBA" link, the LOGIN.GOV process will redirect to an alternate page where you can request a PIN to verify your identity.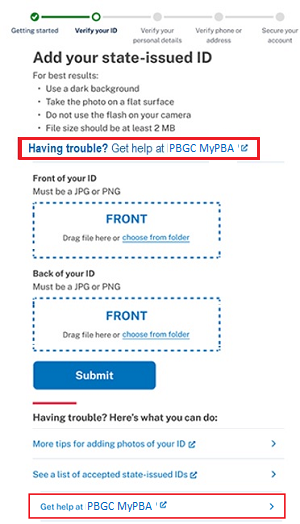 Having Trouble?
If you encounter any issues during the registration process using LOGIN.GOV, please click on (Get help at PBGC MyPBA )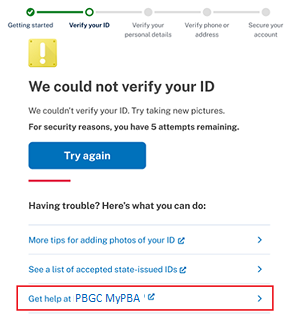 New to MyPBA?
Here is what you need to verify your identity using LOGIN.GOV
US Goverment Issued ID
Social Security Number
Mobile Phone with Camera
Valid Email Address
If you're ready to begin your registration process, please click the LOGIN.GOV icon below.